Dealing with payers can be painful for providers!
You deliver healthcare services, and then have to fight tooth-and-nail for every dime you are owed.
Unfortunately, payers have created a complicated reimbursement system, and the result is that they keep more of your money.
They realize you may not have the resources or energy to continue to hound them for what you are owed.
You can only do so much to hire the right staff, tweak your revenue cycle, and minimize claim rejections – and it's still a ton of work!
But there is a way to motivate payers to want to reimburse you more.
What is it?
It's called a payer value proposition, and it could very well be the next frontier in greater profits for your medical practice.
WHAT IS A PAYER VALUE PROPOSITION?
A payer value proposition is a marketing package specifically designed for the payer audience.
I know it seems odd to "market" to payer; however, sophisticated organizations have been doing it for decades. For example, the pharmaceutical industry routinely builds payer value propositions to support their efforts for preferred access for their medications on payers' formularies.
No, the payer value proposition is not a new concept, but is one that is commonly overlooked by the independent medical practice.
Like all value propositions, a payer value proposition is built on the some age-old principles for good business sense:
Figure out what the other guy wants (i.e., what benefits they desire that you can deliver)
Figure out how you can deliver those benefits (i.e., how they are better off with you than without you)
Communicate your "asks" in a manner that is aligned with their wants (i.e., communicate in terms of the benefits you deliver to them)
HOW TO BUILD A PAYER VALUE PROPOSITION
But marketing to a payer is a bit different than typical marketing. Thirty seconds of sunshine and smiling people riding bicycles will not motivate a payer to offer you higher reimbursements.
The key components of compelling payer value propositions that include the following:
1. Population-Based
2. Aligned with Payer Interests
3. Data-driven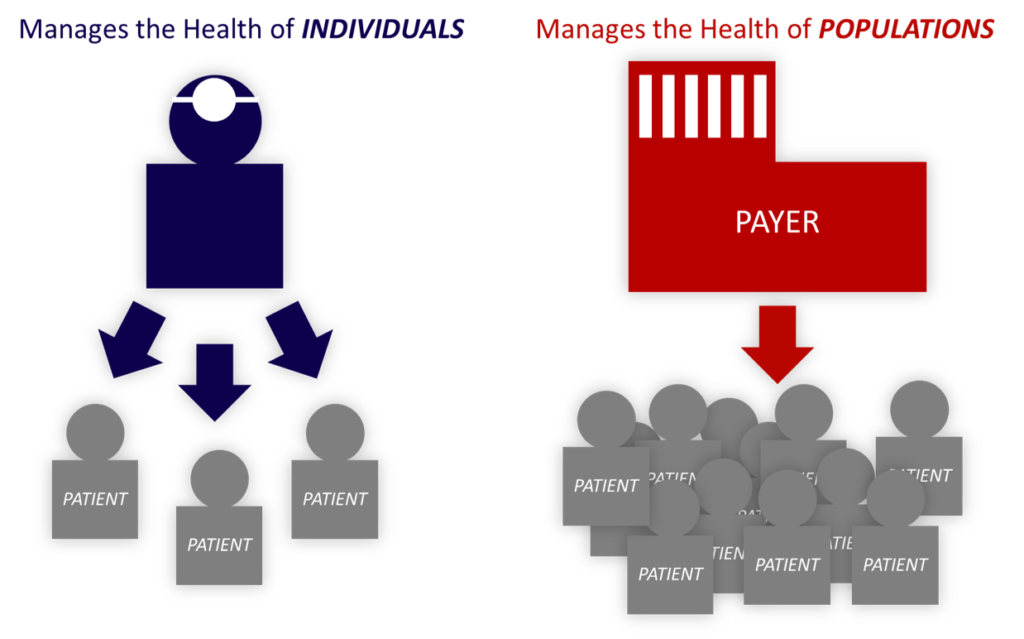 First, the payer value proposition must be population-centric.
While the doctors that staff medical clinics are continually managing the health of individual patients, the payer is continually managing the health of populations. This is a fundamental difference in perspective with significant implications for the attitude and behavior differences between these stakeholders. The payer value proposition for the medical clinic needs to speak to how well the clinic manages its entire population, rather than how well a few cases were managed.
Second, the payer value proposition must be aligned with payer interests.
Part of this relates to the first point above – you want to speak in terms of the way you manage population health, rather than individual cases. Furthermore, payers are perennially interested in outcomes. There are many different types of outcomes. A widely accepted framework has three primary buckets – structure, process, and health outcomes. In addition, there are three sub-categories of health outcomes that are clinical, economic, and humanistic. You can read more about these types of outcomes HERE.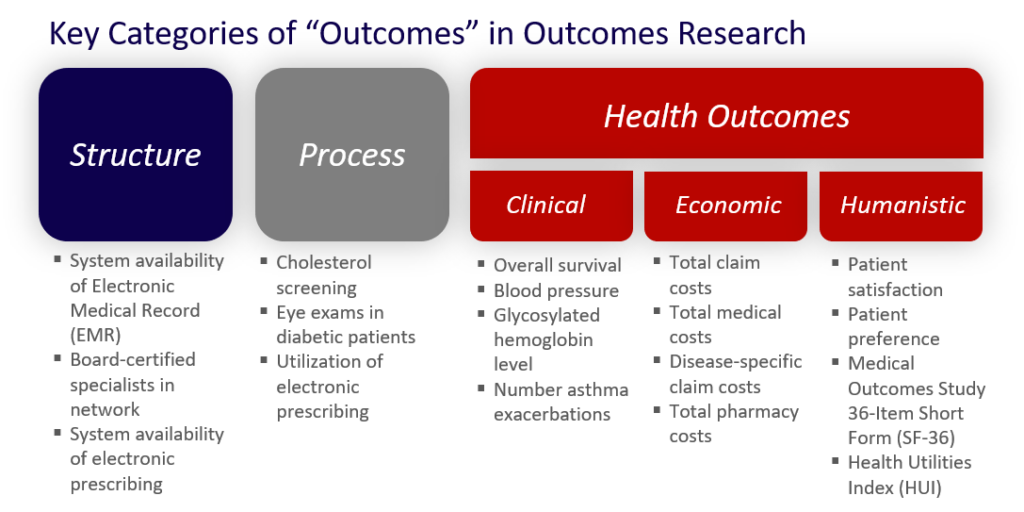 You will want to understand which "outcomes" metrics are most relevant to your particular payer.
Broadly, payers are generally interested in "hard" outcomes (heart attack) instead of "soft" outcomes (blood pressure), quality metrics (e.g., NCQA, Medicare STAR), and other priority metrics (rehospitalizations, ED utilization).
When you are thinking about trying to get better contract terms from a specific payer, you'll want to do some research to understand specifically what outcomes your payer is most interested in. Certainly, outcomes like rehospitalization and ED utilization matter for all payers. However, each payer may have their own goals and objectives with regards to specific quality metric sets (e.g., National Committee of Quality Assurance [NCQA] +/- Medicare STAR). This is where your research can help you focus on exactly what goals your payer has and thus, where you can prove the value of your clinic.
Once you know which of these outcomes metrics are most relevant to your specific payer, then you are ready to pull your own data on each of those metrics.
The good news is that you are likely sitting on a gold-mine of data just waiting to be used in a payer value proposition. Most of the relevant data can be pulled right out of your existing practice management (PM) and/or electronic medical record (EMR) systems.
After pulling all of the data, you can review the results against the metric targets to see if you meet or exceed those goals.
For example, let's say your payer is trying to meet an NCQA Healthcare Effectiveness Data Information Set (HEDIS) metric standard in patients with diabetes. The HEDIS goal is stated as a population median HgbA1c of 9% or lower. After pulling your data in your diabetic population, you find a median of 7.4%. You have proven your clinic valuable in meeting this HEDIS metric and thus, in helping to meet the payer's goals – you are aligned.
The last part of the process of building a payer value proposition is simply to communicate your value and your "ask" to the payer.
You could simply show the payer the data table and there would be some value there.
Even better, however, you have the opportunity to frame your results by what the payer truly wants.
In this case, the payer wants to maintain NCQA accreditation by meeting their HEDIS standards for quality care. Thus, your value message in your payer value proposition might say something like this:
We help payers maintain NCQA accreditation:
Median annual HgbA1c in patients with diabetes – 7.4%
Furthermore, you want to present you request for higher reimbursements.
Again, you could simply ask for higher payments based on the data from your clinic you just showed. However, you may have more success by thinking about what the payer wants first. Specifically, you have the opportunity to tie your request for higher reimbursements to something in your clinic that drives those results.
In our example, this may be the following:
In order to continue to provide the extra clinical support of a certified diabetes educator and staff dietitian that helps achieve these HgbA1c results, we request a 5% increase in reimbursements
Here's an example of how it all might come together: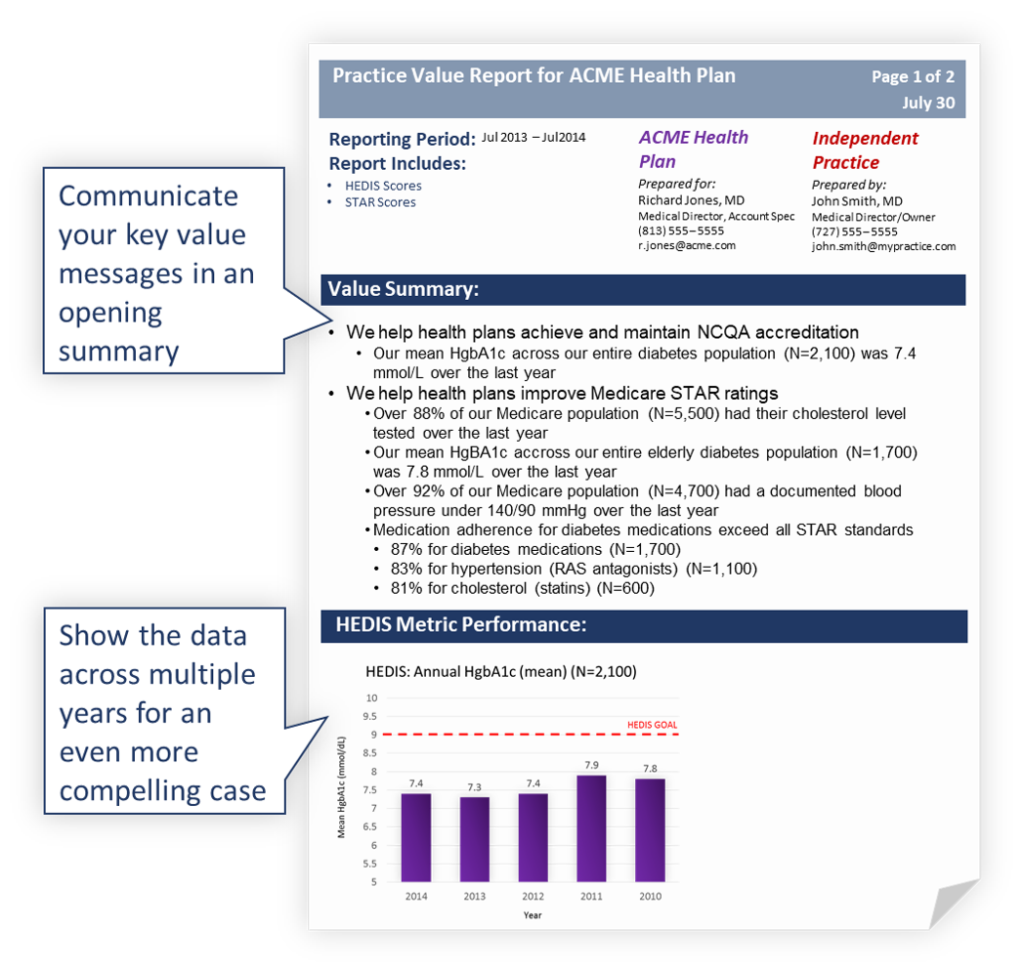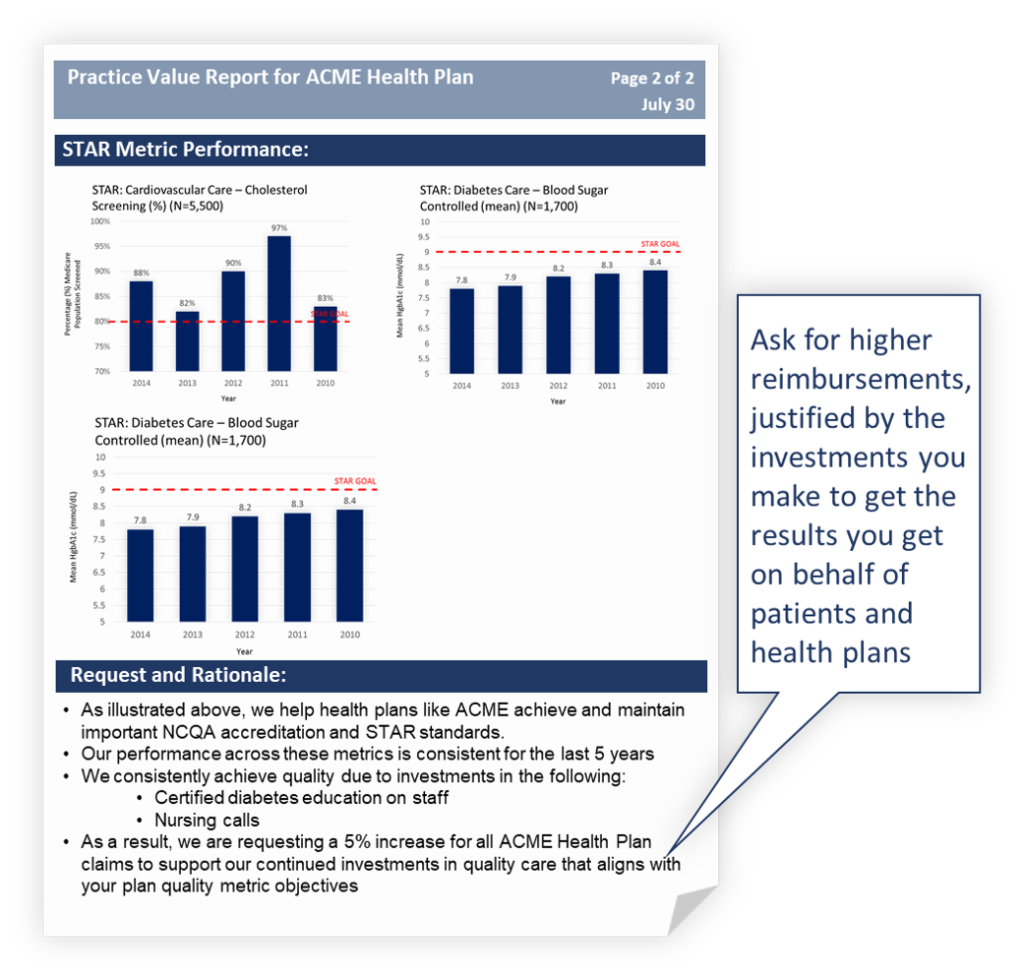 CONCLUSION
We have learned how to motivate payers to increase reimbursements with a payer value proposition.
We have learned the key steps in building and communicating our payer value proposition:
1. Identify Target Metrics Relevant to Your Payer
2. Pull Clinic Data for Target Metrics
3. Create "Marketing" Messages
4. Communicate the Results
The payer value proposition represents the next great opportunity to increase reimbursements and thus, profits, for the independent medical practice owner.
For much more about this process, download a FREE copy of our eBook from our Tools page located HERE. The eBook is titled "How to Motivate Payers to Increase Your Reimbursements," and it is a thorough guide on these topics and more.