Have you heard the term "outcomes research"?
Sure, it might be an interesting scientific discipline in medicine… but why does that matter to your medical practice?
Simple…
Because it matters (in a big way) to payers!
And payers control a good deal of your practice income…
Introduction to "Outcomes Research"
Outcomes research is the scientific discipline that seeks to understand the end results of particular health care practices and interventions.
Do you perform "health care practices and interventions" each day?
Of course you do! It's what your business is all about.
You care a great deal about the results of those treatment plans and procedures for each and every one of your patients. In fact, your patients trust you to deliver healthcare to them that gives them optimal health outcomes, short- and long-term.
But guess who else cares a great deal about those health outcomes… the payer.
The payer is interested in ALL your patients' health outcomes, primarily because they shoulder the greatest share of the medical expenses invested in those outcomes.
So how can they know that Drug A provides better health outcomes across all of the patients in your practice than Drug B? Quite simply, they turn to the discipline of outcomes research.
While traditional experimental research is highly focused on controlling as many variables as possible (i.e., the independent variables) in order to establish a cause-and-effect relationship between a given intervention and the one variable of interest (i.e., the dependent variable), outcomes research looks a bit different.
Outcomes research studies can take many different forms. These studies can be prospective or retrospective, they can be observational or experimental, they can be qualitative or quantitative in nature, etc.
However, they all have one or more specific "outcomes" on which they are focused. In addition, they are often designed to help medical decision-makers (i.e., payers) make decisions about what interventions deserve reimbursements (or not).
Dr. Avedis Donebedian, considered the founder of the study of quality of healthcare and medical outcomes research, described 3 major buckets of outcomes – structure, process, and health outcomes.
Furthermore, the health outcomes bucket can be further broken down into three sub-groups – clinical, economic, and humanistic.
The figure below illustrates these categories as well as gives examples of each.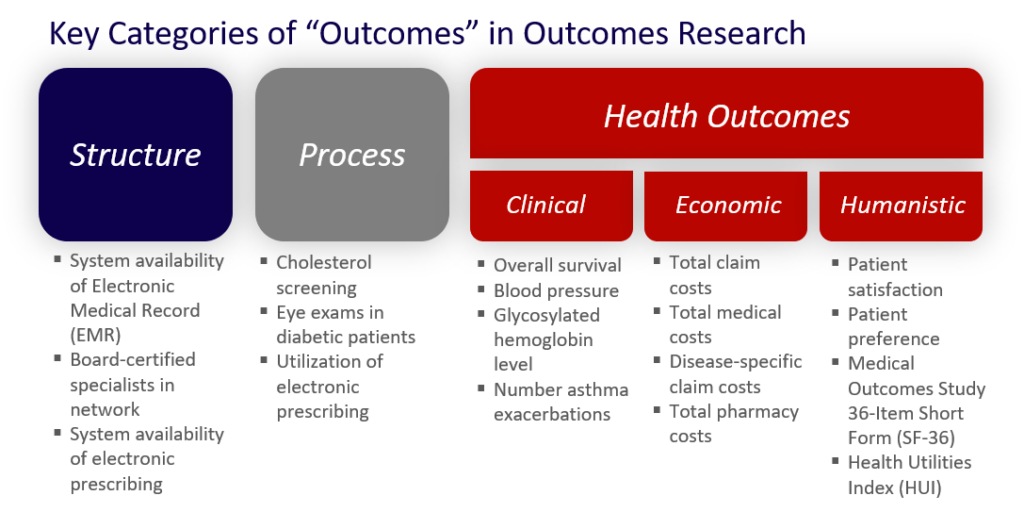 "Structure" metrics are those that are related to the actual healthcare environment, meaning the structure that supports the healthcare delivery of services and products. These are often tied to the available infrastructure that supports patient care. Good examples are whether or not a given office or hospital has an electronic medical record (EMR) system and supports electronic prescribing.
"Process" metrics are those that assess a healthcare-related activity performed for, on behalf of, or by a patient. Good examples of process metrics are those that assess screening activity and other preventive health activities. For example, process measures in and of themselves do not concern themselves as much with what the cholesterol level for the patient is but rather that the cholesterol level blood work was performed.
Finally, "health outcomes" metrics are those that assess the actual healthcare resource utilization and outcomes at a patient level that are tied to the healthcare services they do or do not receive.
As noted above, there are three groups of health outcomes. The first is the clinical health outcomes group. Clinical metrics are just as they suggest, focused on clinical markers of disease and/or patient medical condition. Secondly, economic metrics are typically representative of a dollar value assigned to some form of healthcare utilization. Finally, humanistic metrics are those that concern themselves with patient quality of life. There are many different instruments used to assess quality of life since it can be such a subjective measure. Some of the most popular are those that have been widely studied and validated.
So how do we handle all of these outcomes metrics?
As mentioned above, the impact of medical interventions or treatments on outcomes is studied in outcomes research to help decision-makers understand which treatments deserve investment.
For example, in the world of pharmaceuticals, outcomes research is often used to support the decision for whether or not to put a specific medication on the formulary.
For example, in a hypothetical outcomes research study, Drug A is associated with a 5% rate of asthma exacerbation while Drug B (in the same drug class) is associated with a 1.5% rate of such exacerbations. In this case, the payer is motivated to favor Drug B on its formulary, or perhaps, exclude Drug A completely.

The application of outcomes research is spreading dramatically. The Institute of Medicine (IOM) was tasked by the American Recovery and Reinvestment Act to set a priority list of 100 topics for comparative effectiveness research
(http://www.iom.edu/~/media/Files/Report%20Files/2009/ComparativeEffectivenessResearchPriorities/Stand%20Alone%20List%20of%20100%20CER%20Priorities%20-%20for%20web.ashx).
Many of the IOM's top priorities comprised process measures. Examples include the following:
1. Compare the effectiveness of the various delivery models (e.g., primary care, dental offices, schools, mobile vans) in preventing dental caries in children
2. Compare the effectiveness of wrap-around home and community-based services and residential treatment in managing serious emotional disorders in children and adults
3. Compare the effectiveness of innovative strategies for preventing unintended pregnancies (e.g., OTC access to OCs or other hormonal methods, expanding access to long-acting methods for young women, providing free contraceptive methods at public clinics, pharmacies, or other locations)
However, the IOM also set some health outcomes priorities such as the following:
1. compare effectiveness of treatment strategies of atrial fibrillation including surgery, catheter ablation, and medication
2. compare the effectiveness of imaging technologies in diagnosing, staging, and monitoring patients with cancer including PET, MRI, and CT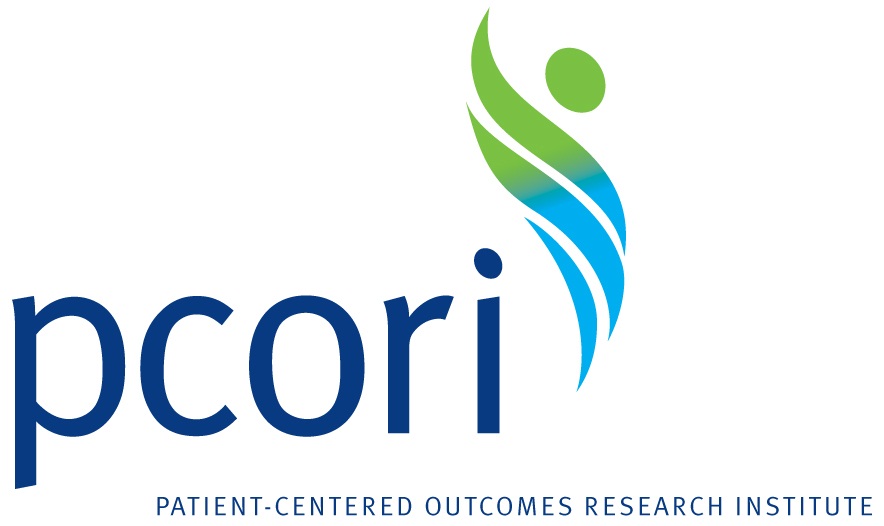 Additionally, the Affordable Care Act (ACA) in 2010 birthed the establishment of a government organization focused entirely on examining the "relative health outcomes, clinical effectiveness, and appropriateness" of different medical treatments. This organization is called the Patient-Centered Outcomes Research Institute (PCORI) and it funds approved outcomes research all around the country. (Visit PCORI at http://www.pcori.org/).
Needless to say, our healthcare environment is moving towards more and more investment in outcomes research to drive more informed / improved decision-making.
Growing Importance of Outcomes Research to the Practice Owner
So why should you, the individual practice owner, care?
If you've ever experienced a payer telling you how you should treat your patients, you know this matters.
The payers are investing in, and demanding, more and more outcomes research data from which to derive reimbursement policies and rates. As noted above, the investment in outcomes research is growing.
As a result, your choices become more and more limited, especially as more and more patients are insured with ACA.
There are many reasons for this. At its core, the swelling cost of healthcare services with a lack of proven benefit for that spend has driven healthcare decision makers to demand more. Insurers are demanding more "proven" data for the value of specific healthcare interventions for which they pay.
Proven outcomes associated with these interventions is their method to get the answers they need.
You could continue to observe these trends… or you may choose to get on-board with them and position your clinic advantageously because of them.
Just as specific interventions are getting kicked to the curb by payers (e.g., not covered), specific healthcare providers will become increasingly sidelined in lieu of payers' more favorable choices – those clinics with proven track-records in terms of optimal health outcomes at reasonable cost.
It is becoming the burden… rather, the opportunity… of each medical practice to prove their value to the larger healthcare system.
Conclusion
We have reviewed the definition of outcomes research. We have seen how outcomes research is a scientific discipline focused on providing data across patient-focused metrics and process metrics to the benefit of healthcare decision makers, often in the health insurance industry.
We have also noted how the trend for requiring, and getting, outcomes research data to support the decision-making process is growing.
Finally, we have noted that these larger healthcare trends offer tremendous opportunity for the savvy medical practice to jump on-board with proving their value with outcomes research methods. In contrast, they offer tremendous risk for those practices that sit on the sidelines and watch this trend continue instead of embracing it.